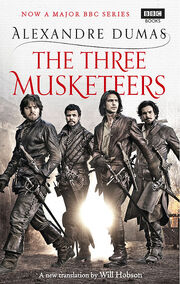 The Three Musketeers, originally published over time between March and July 1844 as Les Trois Mousquetaires, is a novel by Alexandre Dumas, and the inspiration for the 2014 BBC series, The Musketeers. Like the television series, it follows d'Artagnan and fellow musketeers Athos, Aramis and Porthos — the titular "Three Musketeers" — and featured Cardinal Richelieu as its primary antagonist. The novel is part of a three-part series known as the d'Artagnan Romances.
On 2 January 2014, BBC Books published a new translation of the book by Will Hobson, marketing it as a work that is "now a major BBC series". The main cast of The Musketeers is featured on the book cover.
Differences to the TV show
edit
There are many differences between the novel and the show. In the original novel, the characters speak French--in fact, D'artagnan doesn't know any English, as is stated. The age of D'artagnan is also raised in the show--in the book, we first see D'artagnan as an 18-year-old boy.
The book begins in 1626 and ends in 1628, two years before the time the beginning of the show takes place.
Athos' family is never specified in the original novel, whereas in the show he has a late brother named Thomas. Another difference concerning Athos is his backstory with Milady de Winter. In the book, Athos married a young Milady--then called Charlotte Backson--when she was 16 years old and he was 25. He hanged her himself when he found out she was branded with the fleur-de-lis, the mark of the French executioner. All this is revealed to D'artagnan by a drunken Athos during one chapter. Also, the time period between Athos and Milady's past and when Athos tells his story isn't five years like in the show but closer to ten years. On the topic of relationships, Athos is like a father to D'artagnan in the book. In the show, it is arguably more brotherly.
Our four musketeers have lackeys in the original novel. Athos' lackey is the loyal Grimaud, [Gree-mau] who in the show was turned into a villain.
Two characters who survive to the end of the show die before the end of the original novel, and at least two character who die in the show survives the original novel.
External links
edit