Sleight of Hand is the second episode of the series, The Musketeers. The episode is written by lead writer Adrian Hodges and directed by Toby Haynes.
Synopsis
edit
Notorious criminal Vadim seeks to make life unbearable for the authorities that have imprisoned him. When he engineers a full-scale riot it falls to the Musketeers to protect those whom he seeks to destroy. Will the Musketeers discover his plan in time and stop him from endangering the monarchy? And can the inexperienced d'Artagnan prove he is worthy of becoming a Musketeer or do his loyalties lie elsewhere?
As part of a secret mission to infiltrate the criminal Vadim's confidence, the Musketeers pretended to have D'Artagnan arrested and sent to the Chatelet. There, he was given a cell with Vadim and attempted to gain the criminal's trust. Meanwhile, Treville pretended to scold the Musketeers involved in the arrest.
On Good Friday, Queen Anne was required to visit the Chatelet to release prisoners after granting them clemency. Treville ordered a guard of Musketeers and Red Guards to escort and protect her there. In the middle of the ceremony, Vadim escaped and with the help of D'Artagnan freed a number of prisoners to cause havoc. As the Musketeers attempted to subdue the escaping prisoners, Vadim was able to threaten the Queen's life in order to let him escape. His accomplice Felix arrived to take him away on horseback, and D'Artagnan joined him.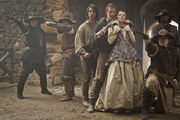 At Vadim's hideout, Felix was not sure whether to trust D'Artagnan as he was once a Musketeer. Vadim did eventually decide to believe however. In the following night, Vadim left the hideout, and D'Artagnan followed him to a house where a girl Suzette Pinault lived. When Felix found D'Artagnan snooping around, he pretended to visit his own lady friend's house, Constance Bonacieux. There, D'Artagnan was secretly able to impart information to his Musketeer friends about Vadim and his visit to Suzette. As he left the house, Bonacieux found him and was distraught that the Musketeers had not apprehended him. He eventually let him go.
Cardinal Richelieu ordered Milady de Winter to investigate Vadim's personal life after being tipped off by Treville and Athos. She found D'Artagnan isolated on a deserted street by two Red Guards and shot them in order to let him run free. Later, Vadim told D'Artagnan not to leave his hideout before asking permission. Meanwhile, suspecting an assassination plot, the Cardinal tried to persuade the King and Queen not to attend the Easter mass as they normally would do. The King refused.
Vadim deviously showed D'Artagnan the plan of action, letting him take it, and D'Artagnan naively passed on the plans to Porthos. He and Aramis informed Treville, who gathered Musketeers to storm Vadim's hideout. All they found was blood on the floor, which Athos suspected was D'Artagnan's. Vadim and his followers had smuggled themselves underneath the building and had knocked out D'Artagnan.
On the day of Easter mass, Vadim's followers took to the crowds to unleash grenades with gunpowder inside. As the Musketeers tried to rush the King and Queen to a safe carriage, Aramis and Athos discovered that the grenades were fake and harmless. They the realised that Vadim had tricked them into believing that it was an assassination plot, when it was actually a robbery. At the Louvre palace, Vadim infiltrated the Royal Vault to steal the treasure and then proceeded down into the underground tunnels of Paris. There he was greeted by his angry followers who felt cheated by his deception, and he killed Felix before escaping towards the river. Despite once being tied onto a massive pile of explosives, he was met by D'Artagnan who succeeded in stabbing Vadim fatally in the stomach. As he reached the river, he died of his wounds.
Simultaneously, Milady de Winter visited Suzette Pinault's house to kill her and stole the diamond pendant that was once taken from the Royal Vault. When asked whether she had retrieved the pendant by Cardinal Richelieu, Milady replied that it was still lost.
General crew
edit
Above-the-line crew
edit
References
edit
Milady shows herself to D'Artagnan once again, trying to gain his affection again to manipulate his position as a friend of Athos.
The Queen grows to like Aramis after his heroic actions to protect her at the Chatelet.
While subtle, the Cardinal continues to show his lack of appreciation for the Musketeers.