"Friends and Enemies" is the first episode of series 1 of The Musketeers, and therefore the first story of the series as a whole. The episode was written by Adrian Hodges, the creator of the series, and directed by Toby Haynes.
Synopsis
edit
Young swordsman d'Artagnan and his father are on their way to Paris to petition the King when they are attacked at an inn, and d'Artagnan's father is killed, naming Athos as the killer before dying. While the young man seeks vengeance for his father's death, musketeers Aramis and Porthos must clear their friend Athos' name before he's executed before a firing squad at dawn. Can they sway the King's opinion before it's too late?
While on a journey from Gascony to Paris, Alexandre d'Artagnan and his son stop at an inn on the road for a rest. There, he and his fellow customer, Michel Fournier are murdered by masked Musketeers. D'Artagnan's father dies in his arms as he watches the Musketeers disappear.
Following a hangover, Athos travels to the local tavern to round up Porthos who is playing a gambling game of cards with a Red Guard, Dujon. After a short fracas over an accusation of cheating, Athos persuades Porthos to join him in meeting Treville that morning. They also meet Aramis on the way who has spent the night with Adele Bessette in Cardinal Armand Richelieu's house. At the garrison Treville tells them that a Musketeer named Cornet, supposed to be exchanging important documents belonging to King Louis XIII, has disappeared.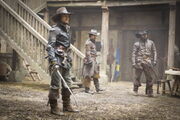 Arriving in Paris, D'Artagnan spends the night at a local inn where he meets and is seduced by the beautiful Milady de Winter. However, the following morning he realizes that she framed him for the death of the Spanish ambassador, Raul Mendoza, whom she murdered in the night. Escaping the inn, he runs into Constance Bonacieux, who allows him to stay at her husband's house for a time. Unable to wait any longer, D'Artagnan seeks his revenge at the Musketeer garrison where he finds Athos and challenges him to a duel. Athos, Porthos and Aramis all fight D'Artagnan and force him to surrender. While this is happening, Treville arrives, forced to arrest Athos for highway robbery and murder.
At Athos' trial, Cardinal Richelieu interrogates two individuals, the inn owner who witnessed Alexandre D'Artagnan's death and a coachman who watched his master and mistress murdered before him. The Cardinal tells the King that it is his decision to make and not to take it lightly. The King decides to have Athos executed at dawn, as an example for those who would dare break the law. Imprisoned in the Chatelet, Athos is visited by a priest who wants him to confess his sins. Athos confesses that he once killed the woman he loved, but gives no details and tells the priest not to waste his time with him. There is then a flashback of a man we can assume to be Athos, holding a forget-me-not and walking towards with a woman, who has her back turned.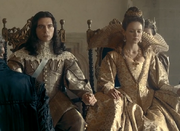 In a secret meeting, Milady de Winter provides the Cardinal with the secret documents that were supposed to be exchanged. He thanks her for them, believing her to be a trusted ally. Meeting with the King, the Cardinal deviously persuades the King to confess his decision to send the confidential documents to his brother-in-law in Spain. The King begs for help, saying he will do anything for the Cardinal not to abandon him, including disband the Musketeers' regiment if he so wishes. The Cardinal promises to help him, thus cementing his trust with the King.
Meanwhile, Porthos and Aramis persuade D'Artagnan to join them to discover the truth about Cornet, in order to save Athos's life and avenge D'Artagnan's father. At the inn where D'Artagnan shot one of the attackers, they find out the corpse is wearing a Musketeer uniform. As the body only shows one bullet wound when the uniform has two bullet holes, they conclude that it was only put on him after his death.Then they discover Cornet's body and the corpses of his men scattered in the woods, wearing normal clothes instead of their Musketeer uniforms. After finding Spanish coins amongst the battle scene, Porthos finds Dujon in a tavern and with the help of cunning Aramis performs a thorough interrogation, forcing Dujon to reveal that Gaudet was responsible for the murders as well as framing Athos for them. Journeying to the Red Guard camp, D'Artagnan, Porthos and Aramis infiltrate the camp with Constance's help and isolate Gaudet in the hope of getting a confession. Although their intention is to keep Gaudet alive, D'Artagnan ends up killing him when his own life is threatened. However, the Musketeer uniform with the two bullet holes remains as evidence.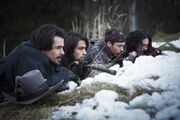 The firing squad who is about to execute Athos is stopped just in time by Porthos and Aramis, who are bearing signed release forms from the King himself. Athos nods gratefully to D'Artagnan for his part in his rescue. In an attempt to keep his reputation, the Cardinal poisons Dujon in his cell to cut off the trail and halt his incrimination. He then takes his mistress, Adele, out into woodland on the outskirts of the city, and murders her because he discovered her disloyalty to him with Aramis.
Back at the local tavern, Porthos and D'Artagnan dicuss Athos' quiet character. Porthos tells D'Artagnan that there was a woman in Athos's life once. Milady visits a Catholic church where she confesses her guilt to loving a man, but wanting revenge on him for attempting to murder her. When the priest calls her an abomination, she strangles him to death. This scene is interspersed with the continuation of the earlier flashback, where Athos gives the forget-me-not to the woman, who turns out to be Milady de Winter. In the tavern, Athos twists his locket with his fingers and opens it, revealing a forget-me-not.
General crew
edit
Above-the-line crew
edit
References
edit
Athos' past relationship was revealed to be a romance with Milady de Winter, which ended in him attempting to murder her. He believed that he had killed her.
Aramis's relationship with Adele Bessette was deep and meaningful, and seemed to have lasted for a while before Adele's brutal murder.
Story notes
edit
to be added