Commodities
is the third episode of the
first series
of
The Musketeers
. The episode was written by
Susie Conklin
and directed by
Saul Metzstein
.
Synopsis
edit
The Musketeers are dispatched to Le Havre to collect the infamous merchant trader and explorer Bonnaire and bring him back to paris to re reprimanded for breaking France's trade treaty. The straightforward mission soon descends into treacherous battle as the Musketeers must defeat Bonnaire's surprising number of enemies.
Athos is forced to confront his past, which threatens to overwhelm him. He must overcome his demons and help the others safely return to Paris.
The four Musketeers are sent to Le Havre to apprehend Emile Bonnaire. There, they find that he has a number of enemies that they need to repel. His wife, Maria Bonnaire, tries to help him escape with the help of her accomplice, Thibault, but she is unsuccessful, and the Musketeers take him on the road to Paris. En route, they are attacked by a group of men lead by one of Emile's business partners, Paul Meunier, who is angry with Emile for not providing his latest cargo. Athos persuades him not to kill Emile, and promises that he will get his revenge.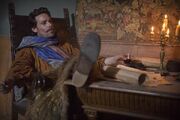 After Porthos is injured by an axe, Athos reluctantly shows his friends to a nearby house, which he reveals he once owned. As Aramis treats Porthos for his wounds, D'Artagnan enquires about Athos' interesting past. Athos is reluctant to talk too much about it, but has haunting memories of his wife's hanging, which he witnessed personally.
Maria Bonnaire arrives outside, after following their trail and succeeds in recapturing Emile, but is killed before she can escape through the woods by a spanish soldier. Emile still attempts to escape, but is stopped by D'Artagnan and taken back to the house. During their venture, Porthos has discovered that Emile is actually running a slave trade and tries desperately to hurt Emile for it, despite his friends' restraints.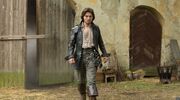 As a sign of respect, Emile buries his wife as the Musketeers watch over him. Athos orders the others to escort Emile directly to Paris while he deals with his own personal matters. After visiting Remi Blacksmith and discovering that he had been killed, Athos becomes depressed and starts to drink uncontrollably. To his surprise, he finds a room in the house on fire and ghostly Milady de Winter arrives, attempting to kill him. He is luckily saved by his friend, D'Artagnan who didn't want to leave him alone under the circumstances, but Milady is able to escape.
In Paris, Aramis and Porthos take Emile directly to the Cardinal, whom to their surprise, offers Emile a new investment which involves tobacco plantations. Meanwhile, Athos stops a spanish soldier, Leon from killing Emile, and D'Artagnan returns to the Bonacieux lodgings to see Constance who has been visited by Milady, and she confesses how terrified she was of her. As a way to pay for his treachery, the Musketeers devise a plot to have Emile captured without incriminating themselves. The spanish soldier, Leon, is allowed to capture the French trader, and Paul Meunier is given all of Emile's cargo for his own use.
Above-the-line crew
edit
References
edit
Porthos reveals that his mother was once a slave from West Africa, who was freed when she came to France.
It was revealed that Athos owned a house on the outskirts of Paris, and had the noble title of Comte de la Fere. This was where he lived in his past with Milady de Winter. He learns that Milady did not die, and that Remi Blacksmith had allowed her to live after she had seduced him. It was also revealed that Milady was put to hang in the first place, because she had killed Athos' brother, Thomas.
Aramis displays a great knowledge in needlework and medicinal care.
Milady continues to show she is able to defy the Cardinal in everything that she asks, and he is growing worried that she will one day thwart him.